Hotel Info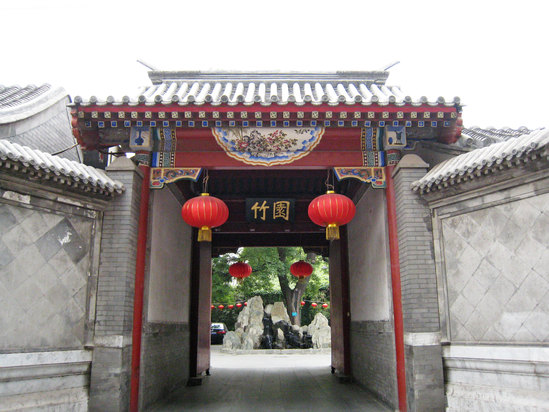 Bamboo Garden Hotel Beijing
is located in the small stone bridge of old Gulou Street.
Zhuyuan hotel is a typical courtyard of the Qing Dynasty, covering an area of about 21 mu. The ancient trees, bamboo forests and courtyard are closely related for nearly 100 years, which makes it perfect that modern technology can never replicate. This is an old house with a history of more than 200 years. It was once given by Empress Dowager Cixi to eunuch ande Hai. Many historical celebrities have lived here. He was once known as 'the pioneer of modern Chinese enterprises', 'the father of early Chinese industry' and 'the first generation of industrialist in modern China': the former residence of Sheng Xuanhuai, the Minister of post and communication in the late Qing Dynasty.
With more than 200 years of splendid historical and cultural heritage, Zhuyuan hotel has its own unique cultural connotation. At present, there are hundreds of famous calligraphy and paintings, including dozens of flat forehead, couplets and couplets, all of which are made by famous artists. Among them, there are many works of modern and contemporary calligraphers and painters, such as Wu Yuru, Bai Xueshi, Dakang, he Haiwan, qigong, Dong Shouping, Liu Haisu, Liu Bingsen and Tao Yiqing. Such a rich cultural accumulation adds a cultural feast to the bamboo garden.
The hotel has more than 30 rooms of various specifications, all of which are in Ming and Qing Dynasty style, simple and unique, elegant and pleasant. There are zero restaurant, banquet hall and tea bar in the hospital. It is a good place for holding all kinds of high-end banquets and business negotiations.
Breakfast price
: CNY60($8.2) / person
Breakfast time
: 07:00-09:30
Breakfast type
: Buffet (Western, Chinese)